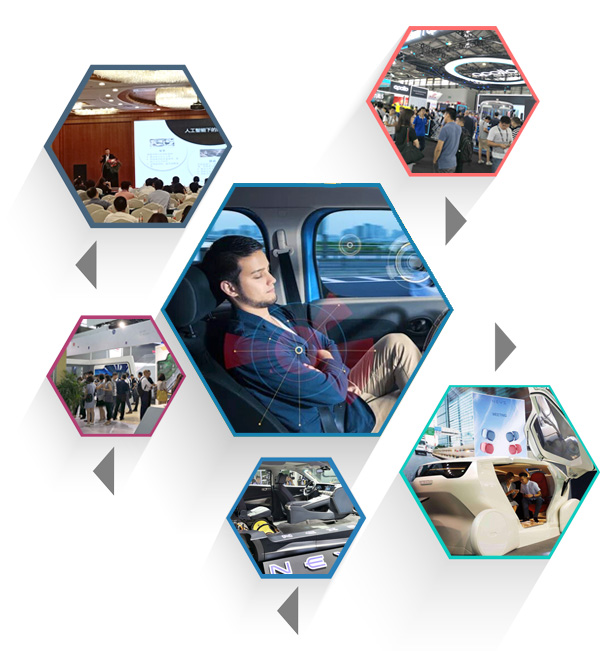 Held by:
Ministry of Commerce, P.R. China Shanghai Municipal Commission of Commerce
Hosted by:
China Association Of Automobile Manufactures
Shanghai International Automobile City (Group) Co., Ltd.
China Automotive Engineering Research Institute Co., Ltd.
Info Convention & Exhibition (Shanghai) Co., Ltd.
Support Units:
Ministry of Industry and Information Technology of the People's Republic China
China Auto Parts & Accessories(Group)Corp.
Shanghai Automotive Industry Corporation (Group)
China Association of Auto Manufacturers
Society of Automotive Engineers of China
China Automotive Technology&Research Center Co. Ltd
Official Website: www.ciaiechina.com

New Opportunities

With the continuous development of artificial intelligence and vehicle networking technology, the future development direction of automobile is also towards longer time, deeper level and higher frequency of human-machine interaction. The rapidly developed cockpit electronics is expected to serve as the center of human-machine interaction, meeting passengers' ultimate driving experience. The human-machine interactive mode of automobile is on the eve of revolution. Multi-screen cockpit is expected to redefine human-machine interaction and gradually become the core of human-machine interaction experience.
In the largest automobile market in the world, how can enterprises participate in domestic and international division of labor and competition with global vision This is a realistic problem. In order to meet the demand of improving automobile quality and promote the development and industrialized application of the automobile industry in the future, the "2019 CIAIE" is specially recommended to you here. We hope that you can find the answer through this platform.
In recent years, with the constant infiltration of automobile electronization, instrument panel, control panel, and in-vehicle infotainment system terminal shall be upgraded and integrated. Cockpit electronics, represented by LCD instrument, HUD, in-vehicle entertainment system and rear-seat entertainment, can bring more intelligent and safer interactive experience, as well as provide more concise and effective interactive mode, which is expected to become the next subversive innovation point of automobile.



Concurrent Activities

Intelligence, cross-border, Internet, new energy, unmanned driving, etc. highlight the trend of global automobile market. Large domestic and foreign companies, parts suppliers and industrial service providers have made overall arrangement, followed by small and medium-sized enterprises. According to relevant predictions, the future automobile is mainly composed of two major arithmetic units, namely intelligent cockpit and unmanned driving. Intelligent cockpit is expected to become the "second brain" of automobile. This will also give unlimited imaginary space for automobile in the future.
For this purpose, Body Accessories Committee of China Association of Automobile Manufacturers, automobile-related industrial branches of China Association of Automobile Manufacturers, and INFO Exhibition (Shanghai) Co., Ltd. will hold "New Trend of Automobile Cockpit - The 2nd Intelligent Cockpit Technology Innovation Forum in 2019" from August 14 to 15, 2019, to launch the new car ride experience in the future.



Major Exhibits
· Digital intelligent cockpit
· IVI infotainment system
· ADAS
· Smart city interactive system
· Human-machine interaction interface (HMI)
· Automobile safety electronics product
· Automatic driving technology
· Virtualized intelligent cockpit solution
· Vehicle audio-video entertainment system
· Cockpit domain controller
· automobile body controller

· LCD instrument
· In-vehicle infotainment system
· Big data and AI engine
· Intelligent display HUD
· Streaming media rearview mirror
· Car Rearview System (CRS)
· Chip
· Sensor
· Data security/information fusion solution
· Intelligent seats
· Intelligent lamp/lighting system
· T-BOX、V2X、OTA

· Innovative technology of automobile interior decoration
· Central control screen and central control in-vehicle information terminal
· Intelligent acoustic-photoelectric technology products
· Millimeter-wave radar solution
· Camera
· Test/detection technology
· Accessories/supporting technical products
· Various kinds of intelligent cockpit application products


Complete vehicle manufacturing
Passenger vehicle
Commercial vehicle

New energy vehicle
Intelligent vehicle

Special vehicle

Parts and components manufacturing (including first-tier, second-tier and third-tier suppliers)
Electronic system
Assembly system
Vehicle body system
Interior and exterior decoration and seat system

Chassis system
Components and parts processing
Intelligent hardware system
Software system

Related parts, standard parts
General parts and accessories
R&D / design, etc.

Others
System integration
Agent / Distributor

Scientific research institution/college
Automotive research institute/technology center

Media organization
Industry organization/association
Contact Us
Info Convention & Exhibition (Shanghai) Co., Ltd.
E-mail:zf@info-shanghai.com